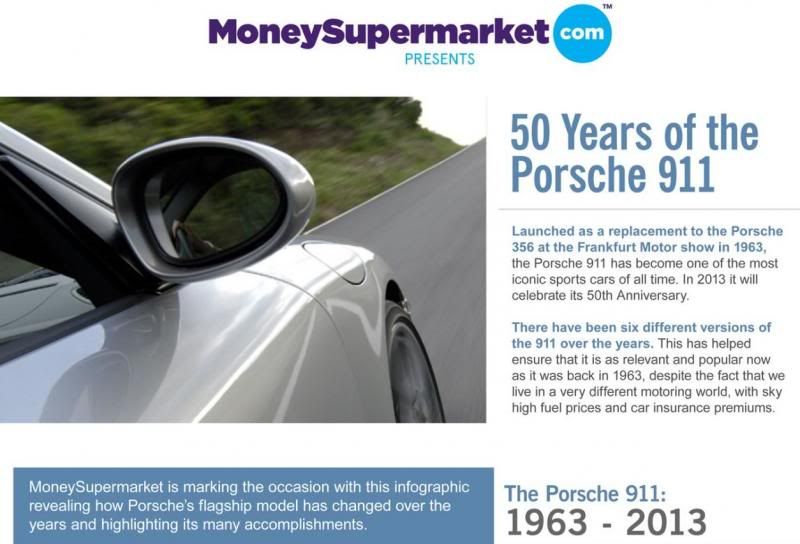 The Frankfurt Motor Show in September will mark the 50th birthday of the Porsche 911, a car which is just as popular in 2013 as it was in 1963. To this day, the Porsche factory in Stuttgart still produces 110 911s every single day and has manufactured 820,000 in total since the models launch. The model has overcome fuel shortages and global economic meltdowns, yet still remained massively popular with petrol heads across the globe.
MoneySupermarket has put together an infographic summarising these facts and also chronicling the six different designs of 911 which have been released since 1963, with gradual improvements having been made along the way.
The infographic also highlights the huge amount of success that the 911 has had in the motorsport arena, over a diverse range of different series. This includes 12 victories at the 12 hours of Sebring and 4 Monte Carlo Rally wins. However, it is Le Mans which the 911 is most associated with having achieved 14 victories at the prestigious 24 hour race and also featuring in the 1971 film based on the event starring Steve McQueen as Porsche's lead driver.
Porsche is of course re-entering the top tier LMP1 category of the Le Mans race next year, much to the excitement of motorsport fans with Red Bull driver Mark Webber strongly tipped to leave F1 to spearhead the outfit's assault on the series.
However, it has not been completely absent from sports car racing since its last Le Mans victory in 1998, with Porsche having been working with the Williams F1 team on a hybrid version of the model to take part in the GT category. Porsche is intending on taking its experience with this racing car to help it develop the next generation of 911 as it aims for another success 50 years.
Special thanks to MoneySupermarket for allowing us to share the report and images.
Words and Images supplied by MoneySupermarket. Please see HERE for the source.
Click the Title to comment & HERE for the full story